State-of-the-art equipment for your vision
To produce your glasses, Visilab uses state-of-the-art equipment at every stage of the process, from eye examination to fitting your glasses.
Eye examinations
At Visilab, eye examinations are carried out by qualified opticians and optometrists. We perform the analysis of visual issues and needs, visual acuity checks, as well as the determination of the optimal correction by means of objective and subjective exams. Other exams include the observation and photography of the eye using a biomicroscope, the measurement of the corneal radius, the analysis of the tear film, and other complementary optometric tests.
All eye examinations are performed using the latest generation of equipment.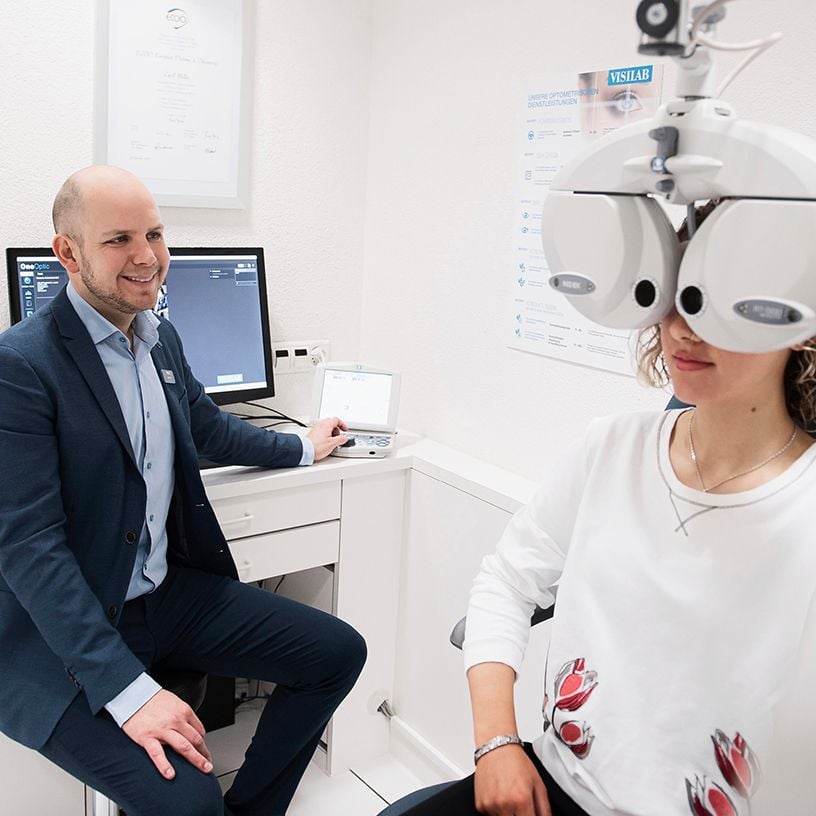 Lens centring and the morphological adjustment of the frame
Using a digital measuring device, our opticians will determine the exact position of your pupils to centre and personalise your corrective lenses in a precise way. They will also ensure that the chosen frame is perfectly adjusted to the shape of your face.
The lenses are then cut to the shape of the frame and assembled according to the measurements initially transferred to our centralised production workshop in Geneva.
Fitting your glasses
Once the frame has been chosen and fitted with corrective lenses, your optician will check the lens quality, in particular the accuracy of the correction and the precision of lens centring.
Before trying on your glasses, your optician will adjust them precisely to your face. A reading test will confirm your perfect vision and visual comfort with your new glasses, and thus ensure your complete satisfaction.
Discover more Visilab advantages