Progressive
Just like clear progressive lenses, progressive lenses with solar protection ensure that your vision is perfectly adapted to the distance you are looking at. They ensure that you can see well both close up and at a distance, without having to take off and put back on your glasses. They represent the perfect combination for summer or winter sports.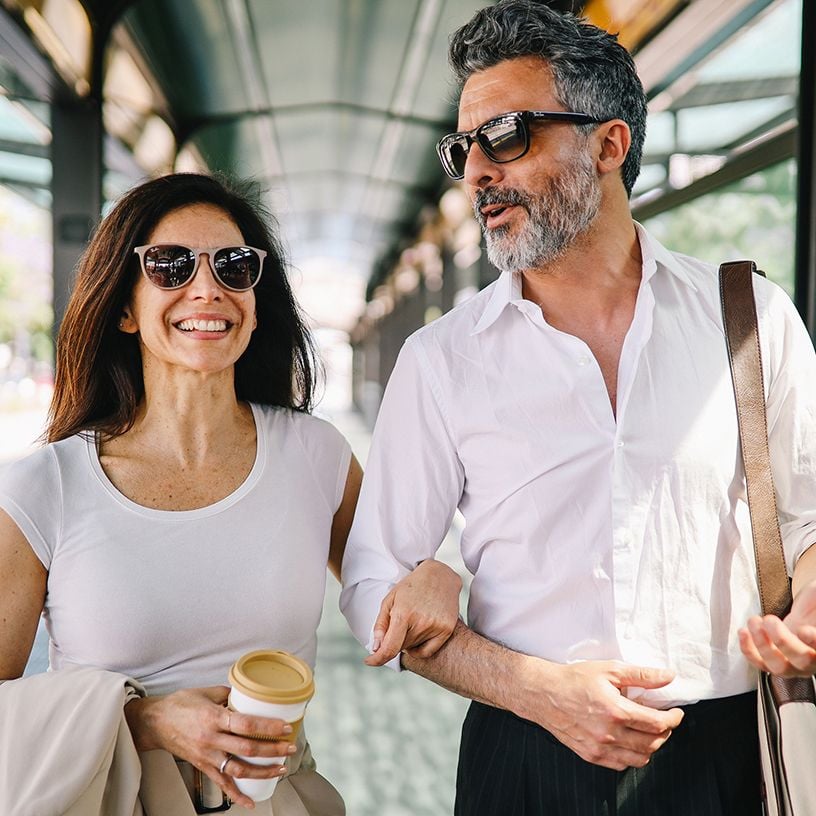 Ask for information about the Visigrade Sun range of optical lenses, and our qualified opticians in store will help you to complete your prescription sunglasses according to your individual optical correction, habits and preferences. To guarantee the best service, progressive lenses (clear and solar) are exclusively available in store.
To help you find the best optical solution for your individual needs, you can answer a few questions online or visit us in store to consult your Visilab optician.
Discover our range of progressive solar lenses
Anti-scratch

A coating that increases the scratch resistance and lifespan of the lens. Learn more

Anti-backreflection

A coating that eliminates slight reflections on the surface of the lens, making it more transparent and therefore more comfortable to wear. Learn more

Anti-smudge

A coating that makes the surface of the lens non-stick: water drains off more easily, dirt adheres less and the lens is easier to clean. Learn more

Optimised near vision

Limit your daily visual effort, as they help your eyes to adapt quickly between near and far vision. Learn more

Fully customised lenses

Digitally manufactured lenses made to measure. They take into account all your individual parameters to optimise your correction. Learn more
Additional options
Do not hesitate to consult your Visilab optician, who will advise you on the most appropriate lenses for your vision and your activities.
A single pair, for near and distance vision
The standard lens for small budgets
Visigrade Basic is an uncoated entry-level progressive lens. This lens is ideal for occasional use or for a spare pair of glasses at an attractive price.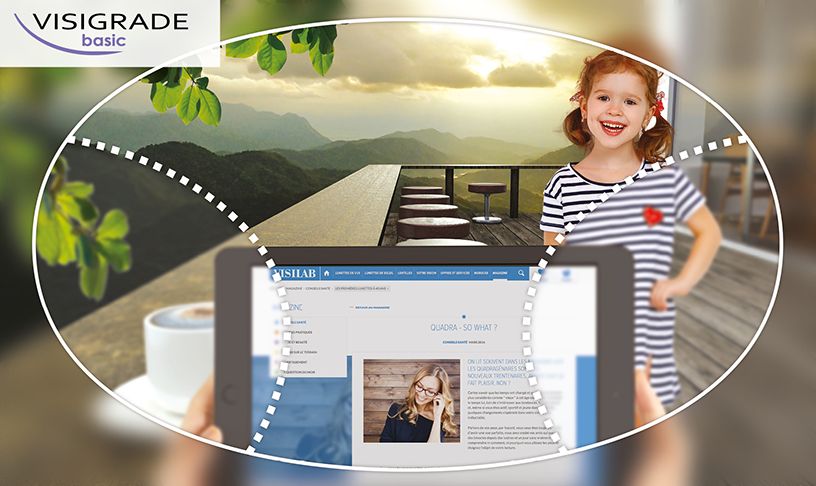 The progressive lens with the best value for money
Visigrade Essential ensures visual comfort at any distance. This is the entry-level progressive lens from Visilab, which offers excellent visual comfort and quality.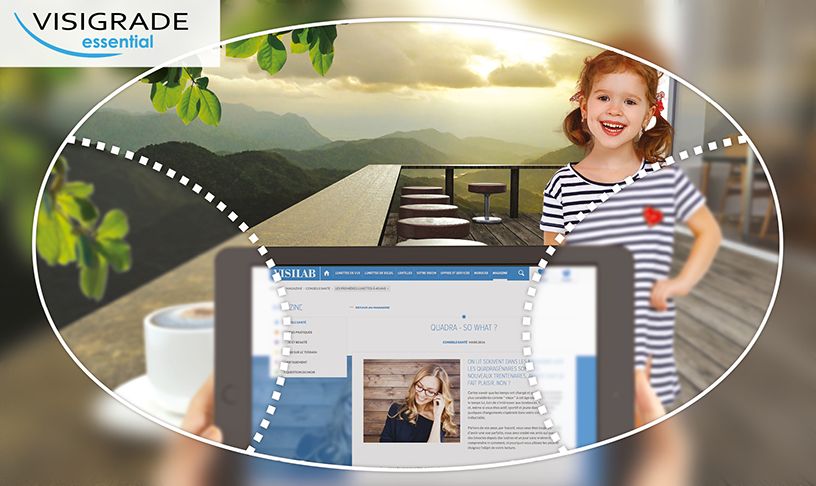 The high-definition progressive lens for people encountering presbyopia for the first time
Visigrade HD Comfort is a digitally manufactured progressive lens that is perfectly suited to active people who are encountering presbyopia for the first time and are new to progressive lenses. This is the high-performance, high-quality lens they are looking for. It allows rapid adjustment, and it ensures natural and stable vision in all everyday situations.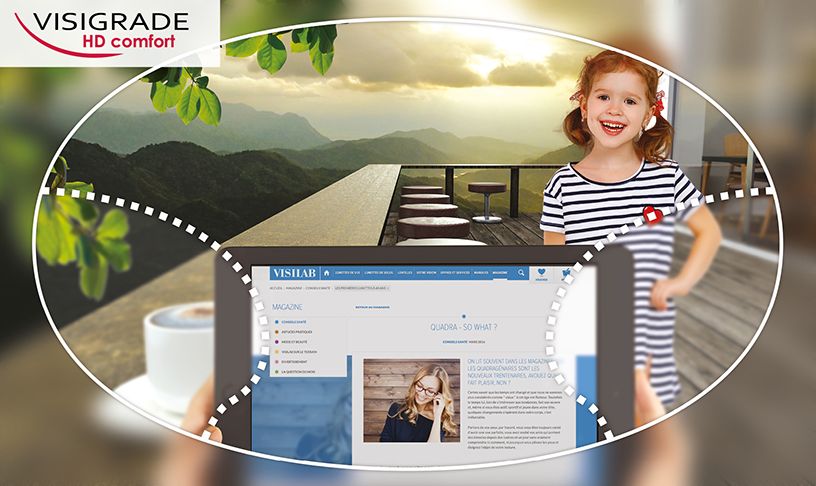 The high-definition progressive lens for people with established presbyopia
Visigrade HD Advanced is a digitally manufactured progressive lens that optimises the reading distance parameter for ideal visual comfort at close range, particularly when using smartphones or tablets. It allows very rapid adjustment and an extremely wide field of vision. You will enjoy optimal visual stability while remaining active. Wherever you look, your vision is in focus!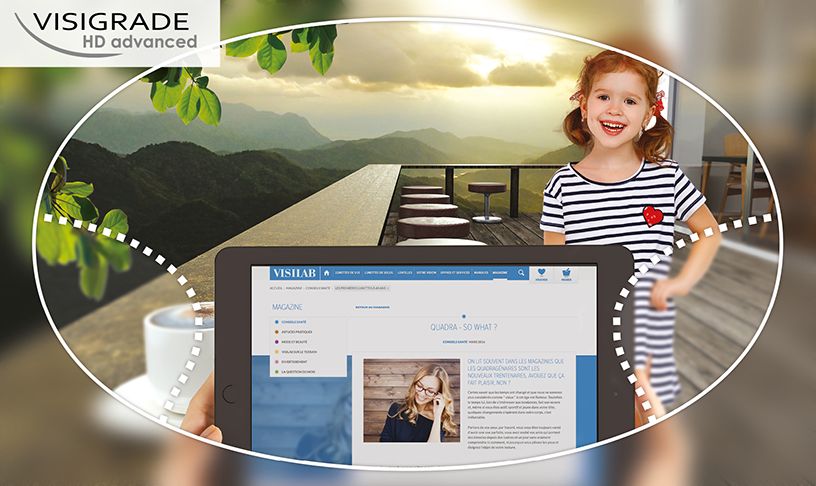 The fully customised progressive lens for optimal visual comfort, whatever your activities
Visigrade Individual Precision is a state-of-the-art progressive lens, entirely customised using the most innovative technologies. It incorporates all the parameters relating to head tilt and reading distance. It facilitates the transition from near to far vision, while ensuring perfectly clear, natural, and effortless vision at any distance.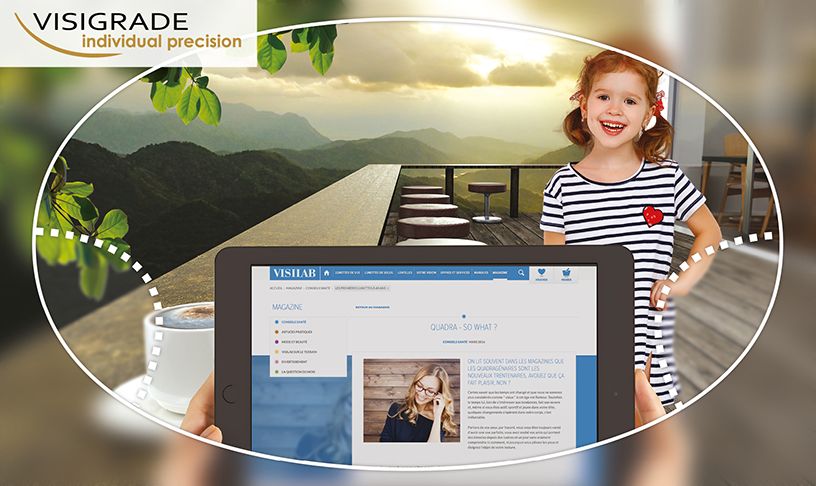 This lens guarantees optimum visual stability, excellent 3-D vision, and an exceptionally wide field of vision. It is the must-have Visilab progressive lens for unrivalled quality of vision, whatever your daily activities.
Difficulties with close or distance vision?