About Visilab
Who are we?
Founded in 1988, the Swiss company Visilab now has the country's largest network of opticians, with more than 75 shops throughout the French- and German-speaking parts of Switzerland. In addition to providing exemplary service, Visilab stands out for being the first optician to offer its customers high-quality prescription glasses assembled on site in stores and available within just one hour.
In 2007, Visilab entered into a partnership with the leading optical retail group GrandVision, whose motto is "Eye care, we care more". This partnership has been strengthened since 2017.
In 2021, Visilab joined the EssilorLuxottica group, which was formed as a result of the merger between the Italian eyewear manufacturer Luxottica and the French optical lens giant Essilor in October 2018. The collaboration with the world leader in optics has allowed Visilab to benefit from state-of-the-art expertise and to perpetuate the brand's distinctive high-tech standards.
Our vision
At Visilab, we want to offer everyone the pleasure of being able to see well. We aim to achieve this by ensuring customer proximity and by giving priority to quality and impeccable service. We strive to build lasting relationships with our customers, as well as with our employees and business partners. To do so, we offer the best choice of brands and models available on the market. Our service meets the most demanding requirements in every respect, from the way we welcome customers to our stores to the personal follow-up provided by our staff, always working in a spirit of mutual trust and esteem.
Our mission
Our mission is to improve the visual quality and comfort of anyone in need of an optical correction by offering a simple, fast, tailor-made and efficient solution based on an analysis of each customer's specific needs. We also aim at highlighting the personality of each person by presenting eyeglasses as a fashion accessory that creates an image
Our core values
In each Visilab store, we offer our customers high-level optometric services, products that use the latest technology, a wide range of branded glasses and impeccable professional service.
The Visilab strategy is based on 4 core values that form the identity of the Visilab brand:
Passion
Being an optician at Visilab means practising our profession with passion. It means taking the time to help each customer to find the most personalised combination of lenses and frame that best suits their needs and style, from a wide choice of brands and models. Passion is also what allows us to form strong and lasting relationships with our customers. By getting to know more about each client, our opticians can offer a service that corresponds as closely as possible to their needs and expectations.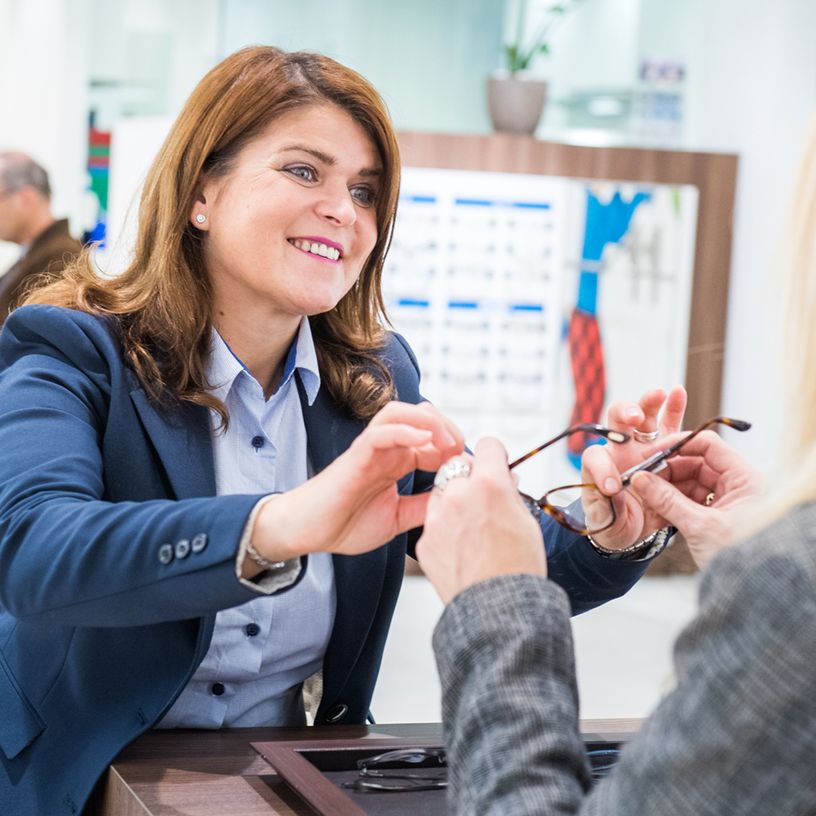 Technology and quality
Our expert opticians provide a high level of service using state-of-the-art technology and the latest optometric equipment. This cutting-edge technology allows us to create custom-made glasses, with lenses that are precisely centred in relation to the position of your pupils, and with angles of inclination and curvature of the frame that are perfectly adapted to the shape of your face. These two conditions are essential for eyeglasses to achieve excellence in terms of visual comfort.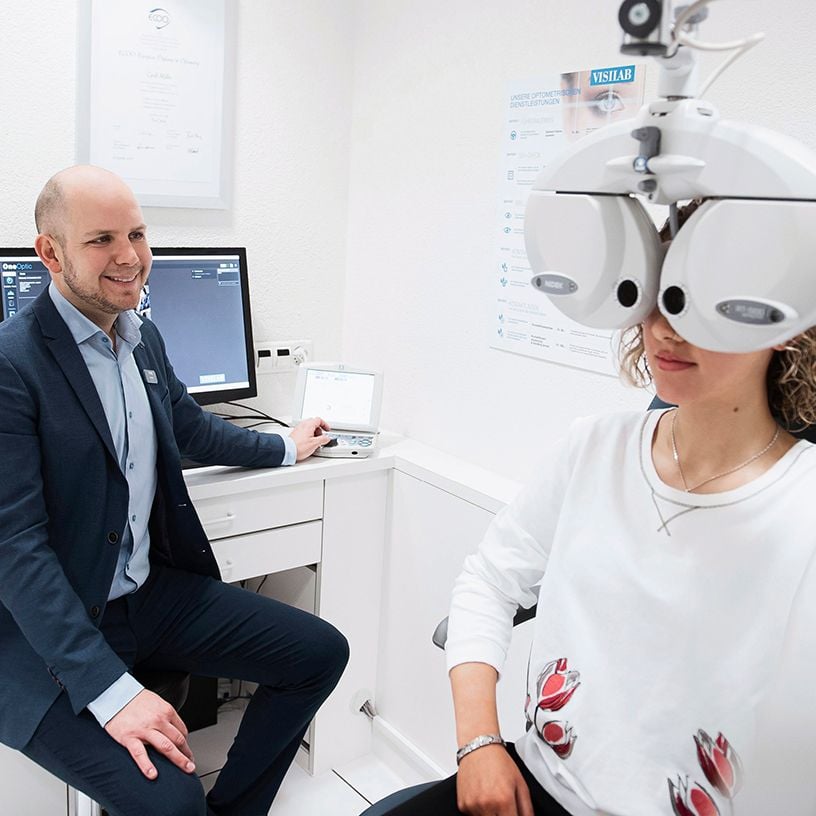 Innovation
Right from day one, innovation has been of utmost importance to Visilab, both in the technical field and when it comes to services and offers. Visilab is a pioneering brand that was the first to offer high-quality prescription glasses manufactured in just one hour. More recently, it has made available online a revolutionary tool to its customers: the "Frame Removal". This is a digital mirror that allows you to try on your chosen glasses in front of your screen without having to remove your current pair, which is hidden virtually by the tool. In a constant effort to make it easier for customers to access optical equipment, Visilab offers a contact lens subscription that makes it possible to order contact lenses in just a few clicks and to choose the place and frequency of delivery.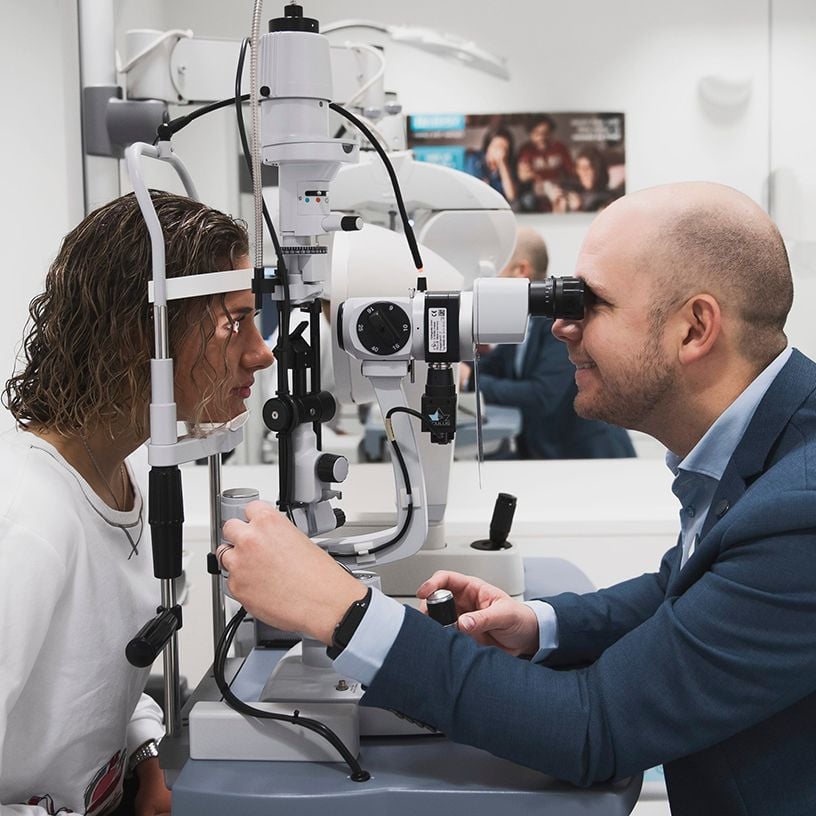 Fashion and trends
Your life is unique, and so is your eyewear selection. A pair of glasses is more than a fashion accessory. It allows you to emphasise your style, express your character and assert your personality. That is why Visilab offers a wide range of models from leading international brands. Whether you need prescription glasses or sunglasses, with or without prescription lenses, our range is constantly updated to keep up with the latest trends.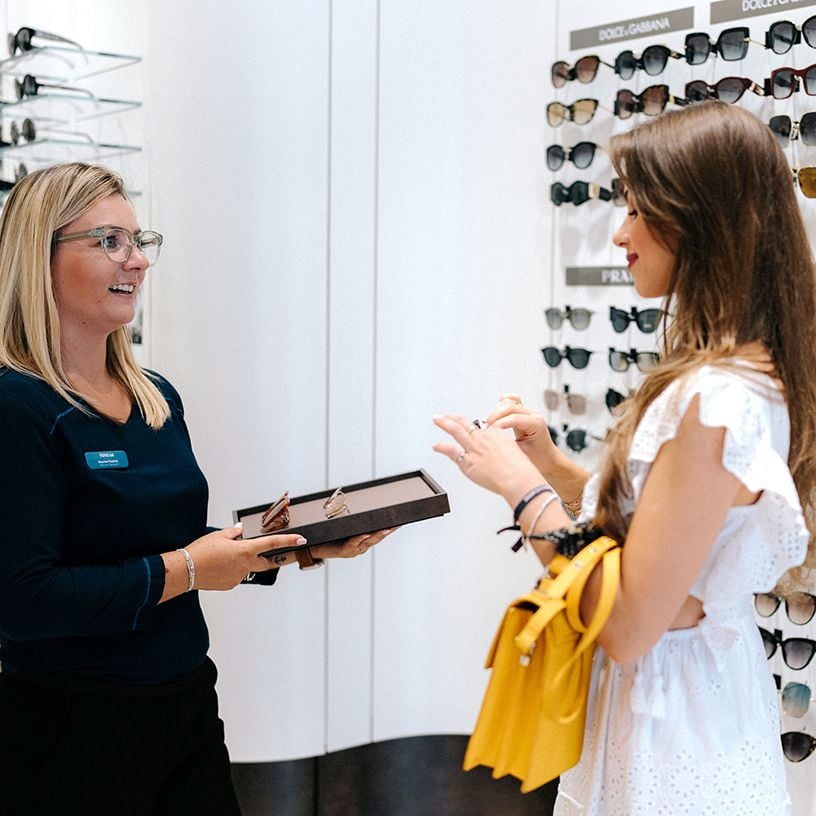 Visilab supports self-improvement and training
Along the years, Visilab has developed a partnership with the great Swiss ski champion Bernhard Russi. As Visilab's historic ambassador, Bernhard Russi is proud to represent our brand and shares its values of quality, precision, innovation and commitment. This partnership with Bernhard Russi is expressed among others through our social support activities in favour of the Swiss National Association of and for the Blind (SNAB). What is more, by accepting more than 100 apprentices across its stores each year, Visilab actively participates in training young people and in promoting the profession of optician in Switzerland.